High Value Marble - Manila
A VIP client in Manila, high value tiles/marbles were released and delivered from Italy to Manila.
Washer Extractor - Cagayan De Oro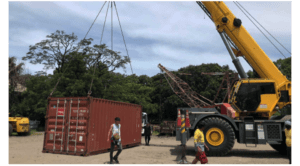 5 tonner 20' FCL shipment of washer extractor from Shanghai was delivered to Tandag, Surigao del Sur released via Cagayan de Oro Port.
Hotel & Gaming - Clark
70 tonner gaming equipment was arranged by airfreight from Shenzhen, China, customs cleared from Clark Airport and successfully delivered in Manila.
ABC Compressor, Filling, Labeling + Blow-Moulding Technology Kosme - Batangas
Five heavily crated machines from Germany were safely and meticulously loaded, transported, delivered and unloaded from Batangas port to clients factory in Cavite.